Updated October 2005
After Ink, perfume and essential oil is perhaps one of the oldest used commodities with vials of unused perfume being unearthed in Greek and Egyptian tombs. This section will include the bottles which held not only perfumes but eau de Cologne, lavender water and toilet water.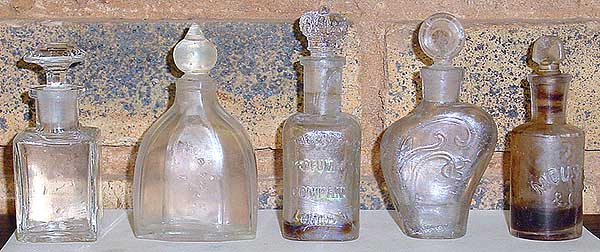 A group of five perfume bottles with ground glass stoppers. The central bottle, a Crown Perfumery, still has some contents. This particular bottle was dug at a Boer War campsite near Pretoria... who used it?
G.LUCE who had premises at 44 King Street, Jersey, was a prolific perfumer. All of the above bottles bear his name and contained either perfume, toilet water or eau de Cologne.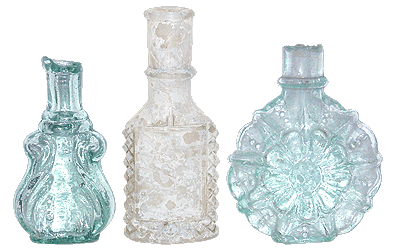 In his article in a recent bottle collecting magazine, Roger Pellow noted that Figural Perfume bottles were probably more difficult to come by than sealed onion bottles! I am inclined to agree. The three bottles shown above are the only ones I have ever managed to find. The two outer ones were bought on the internet and the middle one (sick as a dog) dug in Kimberley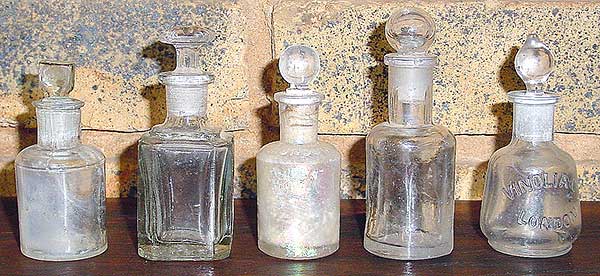 Not all Perfume bottles are attractive... The one in the middle is emboosed J & E Atkinson. The bottle pictured on the far right is embossed Vinolia Co. London.

The above perfume bottles, also known as Avons, are from a slightly later period (c1930) than others pictured here. Some are embossed Regd No 799469 and one bears the name Yardleys. From left to right: Scottie dog, Cheshire cat, frog with umbrella (how's that for contradiction) clown with saxyphone and a sailor boy.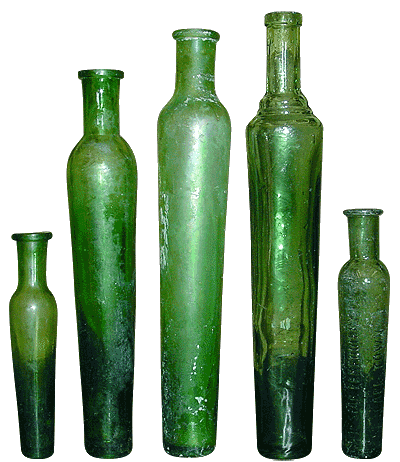 An interesting group of five Perfume bottles most, if not all of which would have contained eau de Cologne.All of these bottles were dug in Kimberley and the one on the right is of particular interest and rarity as it is embossed THE STAR PERFUMERY Co CAPE TOWN. Although these bottles are all pictured standing, they would most certainly have been lying down to grace the Victorian ladies dressing-table.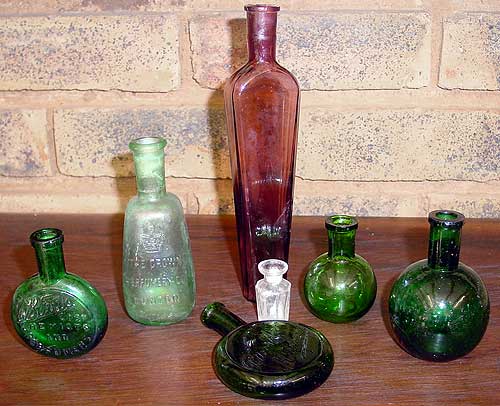 Some more colourful perfumes including (centre) a stunning rose-pink Breidenbach's Rose Water, a miniature faceted ground stopper bottle and a light apple-green ground stopper bottle embossed THE CROWN PERFUMERY CO. LONDON. The flat circular bottles are Boots Cash Chemists (standing) and Potter & Moore, Mitcham (lying).